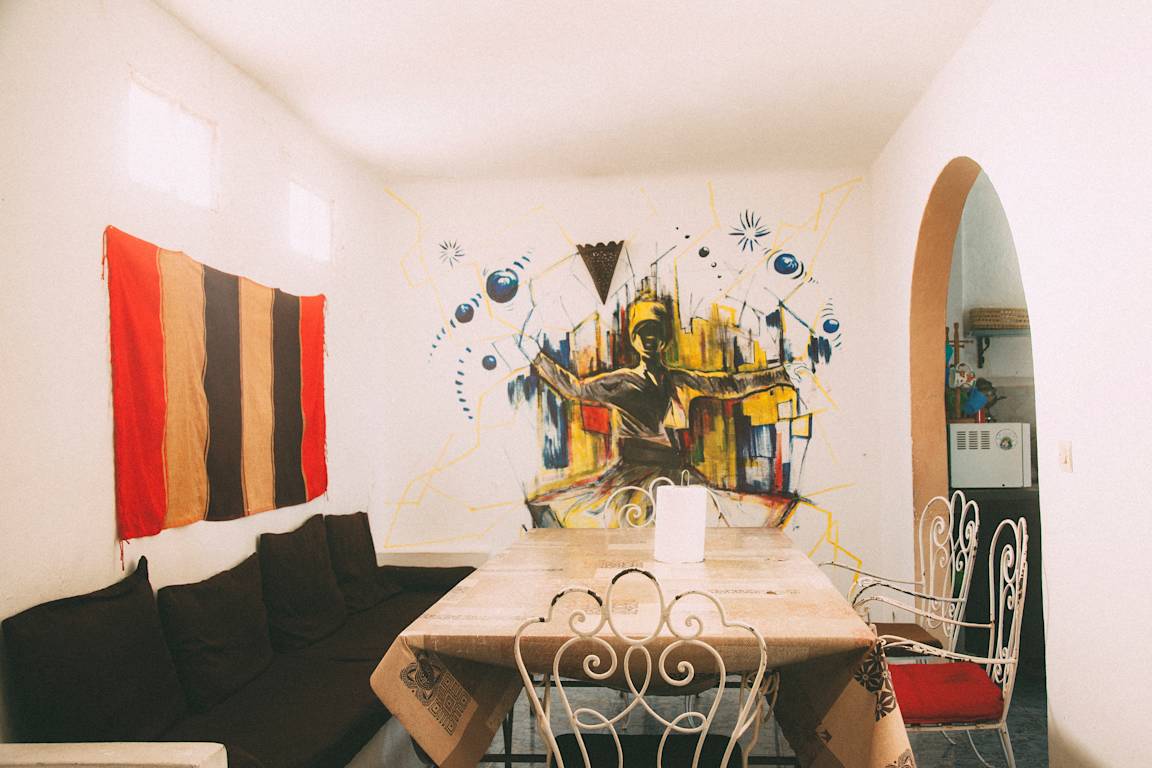 The Melting Pot Hostel is located in the heart of Tangier's Medina. Being one of the biggest Medinas of the country- it's an absolute adventure getting around, it's one of the places in Tangier that attracts the most attention from its many visitors. It feels like a complete maze at first, but after a day or two your mind will just go BAM! and you're navigating yourself to/from the hostel without a second thought.
The history of Tangier is very ancient, the occupation of its land in the colonial era is testified by some of the architecture. The Kasbah and the Medina of Tangier have many historical sites that you can explore for hours.
The hostel is a Dar, that is the name of a traditional Moroccan house. There is a big kitchen, computers at your disposal, free wi-fi everywhere in the hostel, a little bar, two terraces with view over the Medina's rooftops, the best place to meet other travellers, enjoy your breakfast, read a book, or try some typical Moroccan plates cooked by the neighbours. They have a safe place for storage of your luggage on site if your arriving early or want to leave it for a last exploration on check out day. Breakfast, towels and of course your bed sheets are all included in the price.
---
THE WALKING TOUR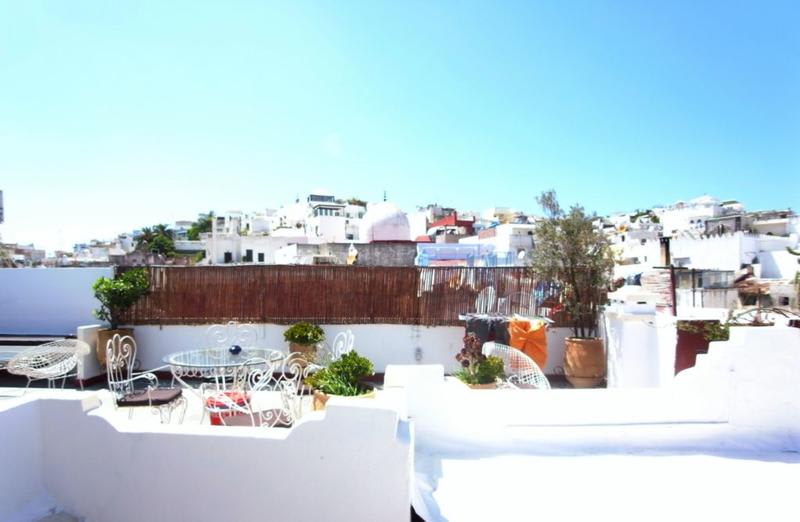 The walking tour is hosted by the amazing Soufiane, everyday at 4pm he takes a group out to explore the city, the market, the square and he is more than happy to assist you with any haggling with the market holders for goods you might want to take home. This guy is amazing, everything he does is with good intentions. He's so pure and full of enthusiasm, he'll make you want to spend your entire trip at the hostel talking about the world and everything that's right and wrong with it. The tour doesn't have a set price, you just give donations at the end and like any other Free Walking Tour you gift the amount that you think he deserves. Which if you enjoy your time as much as i did, I'm sure your tip will put a smile on his face.
---
THE DINNER CLUB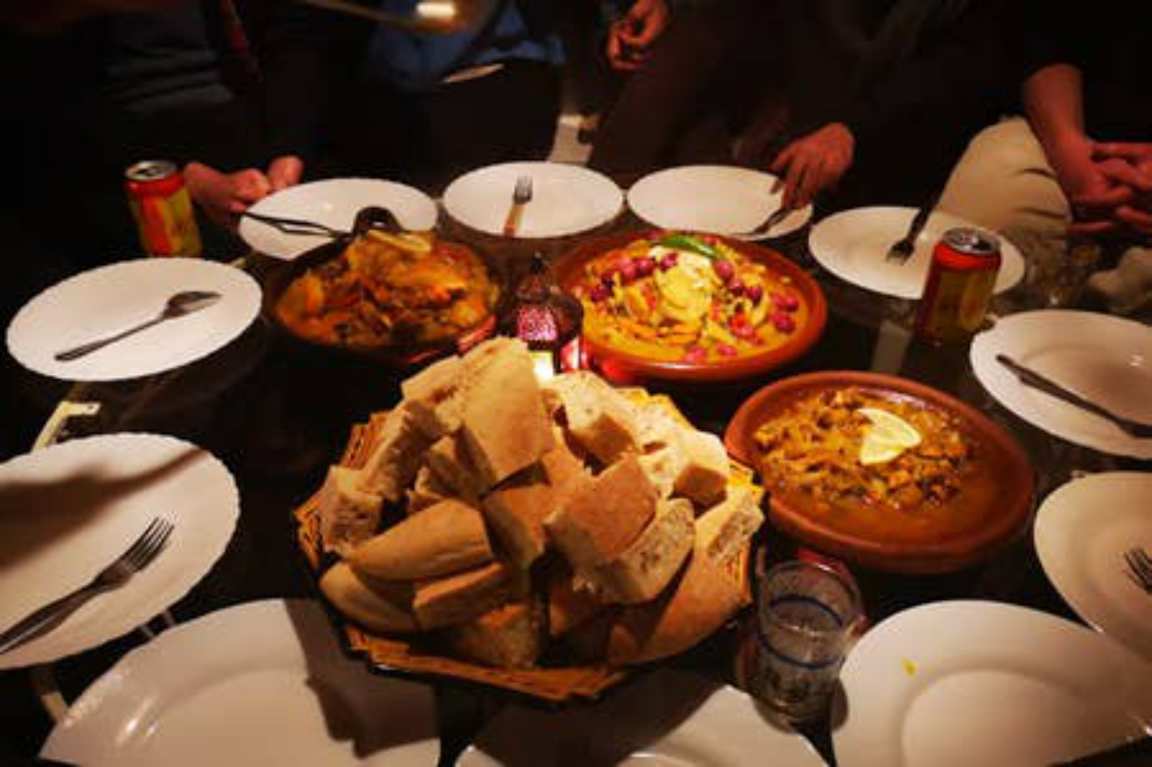 The hostel does a dinner club every night where you can eat with the staff and other travellers. There are different chefs for different nights, and admittedly some of the menus are more exciting than others. But the food was always well and truly worth the money and the environment was fantastic every single night. We would sit and tell travel stories, talk about the way the world was and how we felt about it, listen to music- even had some live performances from Soufiane, Abdou and Dalal. I look back so fondly on my memories of this hostel, it was probably my favourite hostel experience so far. I would definitely go back time and time again, in fact I'm already planning on another trip to see my many new friends there!
---
THE TEAM
When I visited this hostel the staff i got to know were Abdou, Badr, Dalal, Soufiane and Zacharia. Each one of them are amazing in their own way and brought their own elements to the incredible atmosphere of the hostel.
Abdou is an extremely intelligent and creative musician with a heart of gold. Badr is genuinely one of the funniest and smartest guys I have ever met, I miss him a lot! Dalal is this beautiful, free spirited, classy, educated woman who is going to conquer the world some day if she hasn't already. Soufiane, where do I start? I guess in a lot of ways I fell a little in love with this guy. He's a talented photographer, beautiful singer, deep and spiritual philosopher. Somebody you could talk to all night if you had the opportunity and still have more to talk about afterwards, he genuinely just made me smile all the time and think about my life from a perspective very few others have been able to get me to. And last, but definitely not least- Zacharia! He is a total lad, fitness fanatic. Always smiling and always ready to help you out if he can. He had lived in Spain for a while, so had loads to say about the European lifestyle and the difference between it and Morocco.
There isn't one person on this team that you couldn't fall a little in love with- they are all inspirational and exceptional individuals. You should just go to Tangier to meet them if nothing else.
---
ACCOMODATION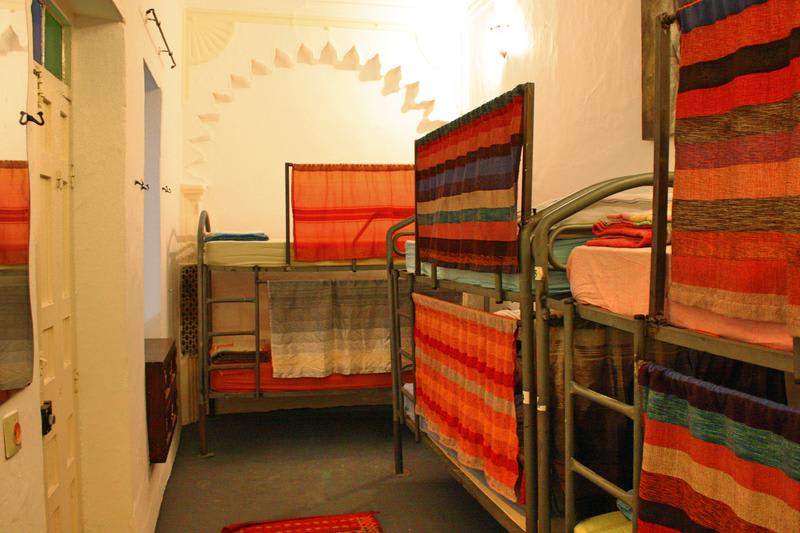 If your interested in booking a trip to The Melting Pot Hostel you can check out what accommodation they have available here…
They have a selection of different sized dormitories and some private rooms. Be quick though, hostels this great tend to sell out quick.
---
Gallery
Just a few snaps from my stay at the hostel.
---
COVID-19 NOTICE
Please be sure to check the current advice of your government for travelling to/from Morocco and be sure to contact the hostel to make sure they are open and taking reservations.
I know that they are currently asking for any help they can to deal with the repurcussions of the coronavirus pandemic. For more information on how you can help click here.
---
---
More reads…
---
Sign up to email subscriptions to be notified every time we post a new article.
---